Dear friends, please send your donation to
Association PMME
77, rue des Plantes 75014 Paris (France)
Name of beneficiary: Association PMME
Name of the bank: La Banque Postale
Number of the account: CCP 5752697 M020
IBAN: FR12 2004 1000 0157 5269 7M02 020 PSSTFRPPPAR
or
If you wish to make a donation in either Canadian or American Dollars (CAD or USD)
- Please send your cheque to:
Royal Bank of Canada - 100, King Street West -Hamilton ON L8P-1A2 Canada (Mrs. Karen MATOS)
Beneficiary: association PMME
Account number: 5713551512
If you wish to make a donation in Chinese yuan (RMB)
Name of beneficiary: ZHU Kailing(朱开玲), tel.(+86) 139 5421 8493

Name of the bank: China Industrial and Commercial Bank, Qingdao Branch

Number of the account: 622208 3803 0032 29466

SWIFT code: ICBKDEFF
or
Give cash to the PMME members in your country
(please contact us associationpmme@163.com to know the person's name)


The PMME association would deliver you an official certificate of donation.
Thank you very much for your generosity!
---
We are most grateful to the Hunterdon Central National Chinese Honor Society (New Jersey, USA) members for their great humanitarian and educational action towards Chinese children.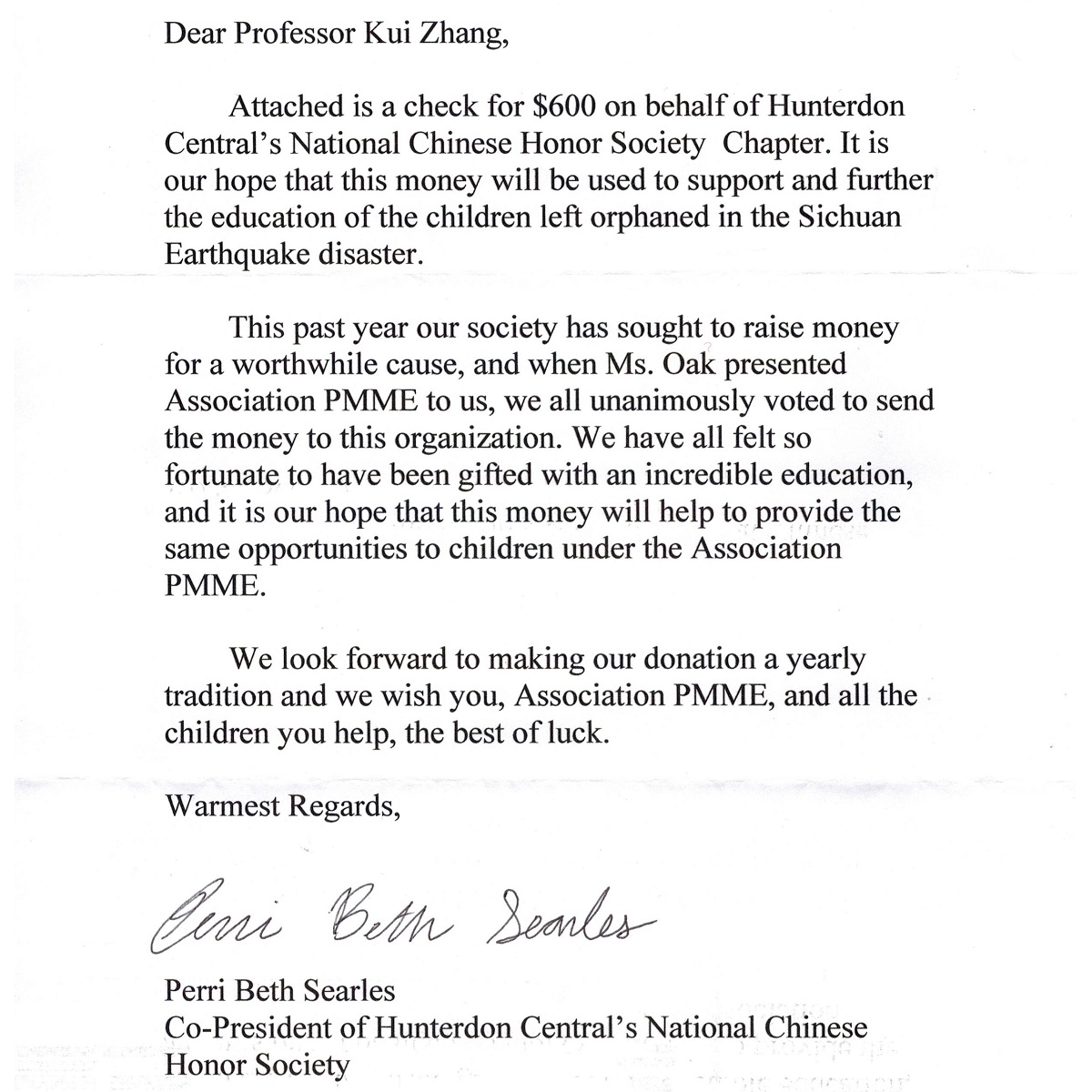 尊敬的张葵教授:
兹寄去美国中文荣誉学会亨特登分会的600美元支票一张。我们希望此捐款能被使用在四川地震灾难中成为孤儿的孩子的教育上。
一年来,我分会一直在寻找有价值、有意义的筹资理由。当会员奥克女士(Oak)向我们介绍了PMME协会的活动后,大家一致同意将奥克女士和她的学生们在2012年度里收集的善款全部捐赠给贵协会。 我分会会员们都为自己有机会受到过良好的教育而感到万分幸运,因此也希望尽微薄之力赞助PMME协会所熟悉的贫穷孩子们,为他们提供良好的教育机会。
我们计划将此项捐赠列入分会一年一度的工作之中。衷心希望PMME以及PMME所救助的所有孩子们好运!
请接受我们最美好的祝愿,
(签名)
Searles 女士
| | |
| --- | --- |
| 美国中文荣誉学会亨特登分会主席 | 2013年7月5日于新泽西Hunterdon |
---
Association
以 教 育 促 使 世 界 更 美 好 协 会
《A Better World via Education》
《Pour un Monde Meilleur via l'Education (PMME)》
11 Avenue de l'Observatoire -75006 Paris (France)
Email. associationpmme@163.com, Website: www.asso-pmme.fr

---

Madame Cecilia OAK
Hunterdon Central Regional High School
84 Route 31
Flemington, NJ 08822
USA

Paris, le 10/07/2013

Dear Madame Cecilia Oak,

On behalf of our international association, we would like to express our sincere gratitude and appreciation of your contribution of $600 to PMME. In a world increasingly polarized by the differences between societies, weary of corruption and the abuse of money, it is a profound pleasure to acknowledge your generous gift. It is a wonderful example of how a group of people can contribute directly to children they have never seen but whose needs they comprehend very well.

At this time when Sichuan is again experiencing natural devastation, it is important that the teachers and children in the school have tangible evidence that there are caring and humane people in the world such as yourselves who recognize that humanity needs a sense of mutual support and understanding. We are not only grateful for your precious support we will make sure that others are aware of your kindness and humanity.

Yours Sincerely,

Prof. Kui ZHANG
President of the association PMME

尊敬的Cecilia Oak老师和美国新泽西州Hunterdon高中的同学们:

今收到你们通过PMME协会向四川灾区儿童捐赠的600美金善款。我仅代表协会向你们表示最诚挚地谢意。

当今的世界,贫富差距增大,加之腐败的渗透和金钱的挥霍使得社会两极分化日趋严重。而你们身为中学生,却把自己一美元一美元积攒起来的零花钱慷慨地捐赠给远在万里之外的素不相识的中国孩子,用自己的行动告诉世人:这个世界需要博爱,这个世界存在关爱!

此时此刻,中国四川正经历着又一次天灾。我们相信,当那里的老师和孩子们得知大洋彼岸的爱心奉献,他们一定会再一次感受到世界大家庭的温暖。人类需要相互理解和帮助。 再次感谢你们的宝贵支持。同时,我们还会通过各种渠道把你们的善良与人道关怀传播给众人。

此致

崇高的敬意。

张葵

国际PMME协会主席
2013年7月10日 于巴黎



Indifference is the first step on a path which leads ultimately to the destruction of the values which define us as human beings.

L'indifférence est la première marche qui mène à la destruction des valeurs essentielles de l'humanité.

对他人的冷漠是摧毁人类基本价值的第一步。
---